Time to read
less than
1 minute
Mosul operation started |WP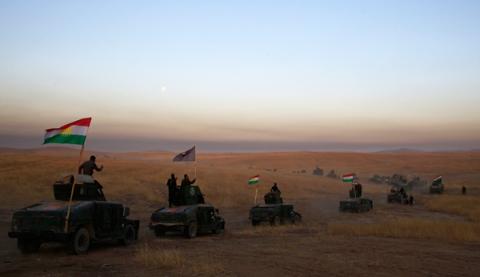 KHAZIR, Iraq — Thousands of Iraqi forces advanced toward the northern Iraqi city of Mosul on Monday, the first step of a long-awaited offensive seeking to drive Islamic State militants from their main stronghold in Iraq.
Kurdish forces moved to take a string of villages east of the city, while Iraqi army and police units made a push from the south.
Announced before dawn in a televised address by Iraqi Prime Minister Haidar al-Abadi, the battle is the most ambitious offensive launched by Iraq's security forces since they were created after the U.S.-led invasion in 2003.
By sunrise, hundreds of Kurdish soldiers, known as peshmerga, were advancing in gun trucks and armored vehicles. But their movement was slowed by booby traps and roadside bombs, officers said. The Islamic State has fortified its defenses of the city in recent months, erecting concrete blast walls and digging trenches.
The operation aims to push the militant group out of its de facto capital in Iraq, the most populous city it controls. More than 1 million civilians are thought to be trapped in the city.
Read more: 
https://www.washingtonpost.com/world/iraqi-attack-on-mosul-begins-with-kurdish-forces-moving-in-from-the-east/2016/10/17/6c6df7d8-93ed-11e6-9cae-2a3574e296a6_story.html