Email cache proves Turkish oil minister's links to Isis oil trade, WikiLeaks claims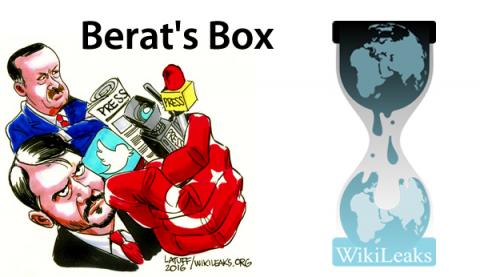 More than 57,000 emails reportedly from account of Minister of Oil Berat Albayrak, son-in-law of President Recep Tayyip Erdogan, hacked by activist collective Redhack
WikiLeaks has released a cache of thousands of personal emails allegedly from the account of senior Turkish government minister Berat Albayrak, son-in-law of the country's president, Recep Tayyip Erdogan, which it says shows the extent of links between Mr Albayrak and a company implicated in deals with Isis-controlled oil fields.
The 60,000 strong searchable cache, released on Monday, spans the time period between April 2000 - September 23 2016, and shows Mr Albayrak had intimate knowledge of staffing and salary issues at Powertrans, a company which was controversially given a monopoly on the road and rail transportation of oil into the country from Iraqi Kurdistan.  
Turkish media reported in 2014 and 2015 that Powertrans has been accused of mixing in oil produced by Isis in neighbouring Syria and adding it to local shipments which eventually reached Turkey, although the charges have not been substantiated by any solid evidence.
Mr Albayrak has previously denied he has any connections to Powertrans. The Independent's attempts to reach him were unsuccessful. 
The emails were apparently obtained by Redhack, a Turkish hactivist collective.  WikiLeaks founder Julian Assange said that they were published in response to the Turkish government's widening crackdown on dissent. 
Mr Albayrak, one of the most powerful individuals in Turkey, is widely seen as being groomed to be Mr Erdogan's successor. The hardline president has been consolidating his grip on power  by implementing emergency powers and arresting thousands of journalists, activists and academics in the wake of a failed military coup in July. 
"The people of Turkey need a free media and a free internet," Mr Assange said. 
'The government's counter-coup efforts have gone well beyond their stated purpose of protecting the state... and are now primarily used to steal assets and eliminate critics.
"This consolidation around the power vertical of Recep Tayyip Erdogan ultimately weakens Turkish institutionalism, leaving Turkey more susceptible to future coups by those in Erdogan's chain of command."
The emails also offer a look at the close relationship between Mr Albayrak and Mehmet Ali Yalcindag, US President-elect Donald Trump's business partner in Turkey.
Read more: http://www.independent.co.uk/news/world/middle-east/wikileaks-turkey-isis-oil-minister-email-cache-leaks-claims-a7460736.html
wikileaks: https://wikileaks.org/berats-box/
Category