AI slams forced displacement of Kurds in Turkey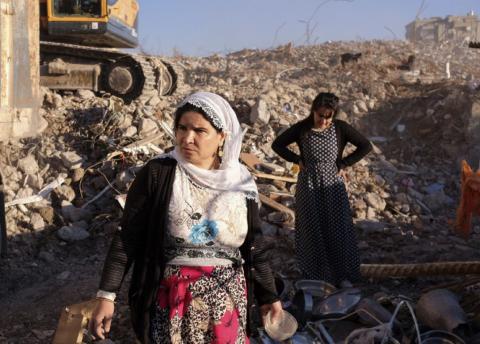 Rights group estimates more than 500,000 people have been displaced as a result of curfews and sweeping security crackdowns.
DIYARBAKIR, TURKEY—Turkish authorities have forcibly evicted tens of thousands of people in security operations in a predominantly Kurdish district of southeastern Turkey, a human rights group said Tuesday.
Amnesty International said in a new report that authorities have prevented their return by expropriating and demolishing homes in a policy that may amount to collective punishment.
Amnesty's Europe director, John Dalhuisen, said that "a year after a round-the-clock curfew was imposed in Sur, thousands of people remain displaced from their homes, struggling to make ends meet and facing an uncertain future in an increasingly repressive atmosphere."
Turkish officials didn't immediately comment on the report. They have claimed the vast security operations and 24-hour curfews in Sur and other predominantly Kurdish areas were necessary for security reasons — to root out fighters linked to the Kurdistan Workers' Party, or PKK, which Turkey, the U.S. and the European Union consider a terrorist organization.
PKK-linked and -inspired militants, many of them youths, had dug trenches, raised barricades and booby-trapped areas in neighbourhoods where they sought to claim autonomy, including in Sur, a walled-off, historic district in the city of Diyarbakir, which is widely seen by Turkey's Kurds as their regional capital.
A ceasefire between the Turkish government and PKK collapsed in July 2015. As the conflict escalated, large sections of Sur, a UNESCO World Heritage Site, were placed under curfew in December 2015.
That restriction remains in place in six neighbourhoods, formerly home to 24,000 people, despite the conclusion of clashes in March.
In the report, which was released to coincide with the anniversary of Sur's curfew, Amnesty slammed authorities for "devastating the lives of ordinary people under the pretext of security."
Ismail Uzmez, a 60-year-old shopkeeper left without work, regrets losing not only his home in Sur but a life built through the effort of his entire extended family. All 52 relatives have been displaced and scattered, struggling to survive following security operations that emptied out their neighbourhood and pummeled their house.
"We had sold all our farms to buy that house," he said. "Now, when I go there, I can't recognize my home. It is destroyed."
The rights group says it estimates more than 500,000 people have been displaced in eastern and southeastern Turkey as a result of curfews and sweeping crackdowns that used a level of military force deemed disproportionate for the security threat posed by Kurdish militants.
Amnesty noted that the destruction by shelling, demolition and expropriation of at least 60 per cent of the homes in the Sur district has set the stage for a vague redevelopment project that very few former residents are likely to benefit from.
Andrew Gardner, Amnesty International's Turkey researcher, told The Associated Press that the unnecessary extension of the curfew in Sur and the authorities' failure to facilitate the return of residents suggests a "premeditated plan" to achieve security "through changing the structure and infrastructure of these areas."
Residents displaced from Sur and other areas have struggled to find alternative housing, livelihood and education for their children, according to the report, which drew on the testimony of 26 displaced families. Families have received insufficient compensation and aid from the government.
Amnesty underscores that the experience of Sur residents is one mirrored in other conflict-stricken areas of the southeast.
The hardship has been compounded by a nationwide state of emergency imposed after the failed July 15 coup which has seen the closure of Kurdish media outlets and detention of Kurdish politicians and lawyers who could champion their cause.
Local organizations providing services to the displaced, Amnesty noted, have also been shut.
"The obligation of the state is to ensure that people have the means and ability to return to their houses, or failing that, their neighbourhoods," Gardner said. "It looks increasingly unlikely that the vast majority of residents will be able to go back."
Re: https://www.thestar.com/news/world/2016/12/06/amnesty-international-slams-forced-displacement-of-thousands-of-kurds.html
Category