Erdogan must clear IS in Turkey before Mosul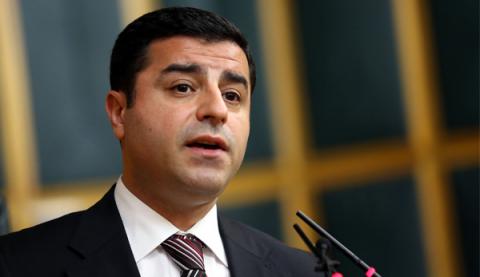 ANKARA, Turkey (Kurdistan24) – Turkey's Pro-Kurdish Peoples' Democratic Party (HDP) Co-chair Selahattin Demirtas on Tuesday called on the Turkish President to clear the Islamic State (IS) from his country first before sending troops to Iraq.
In a weekly address to HDP's parliamentarian group in the Turkish Assembly, Demirtas claimed there were neighborhoods in the ethnically mixed city of Gaziantep on the Syrian border where security forces could not enter.
"You are claiming to be fighting the IS. First clear Antep from the IS before going to Mosul instead," said Demirtas in an addressing tone to President Recep Tayyip Erdogan.
Gaziantep was the scene of an IS suicide bombing on a Kurdish wedding that killed 57 people and wounded 66 others, all civilian.
On Sunday, another IS suicide bomber blew himself up killing three Turkish police officers and wounding eight more in the city where many foreign fighters used as a transit point into Syria.
Moreover, Demirtas said the Turkish Government's Syrian and Iraqi policies were bound to fail because they were "merely populist and racist in essence."
"Look at the statements [officials] make. They say 'Mosul is ours, Mosul is Turkish.' What kind of politics is this," asked the HDP leader according to the Kurdistan24 Ankara bureau.
"When you say we will be both on the ground and the table in Mosul, you, in fact, are afraid of confessing that you lost both," he added.
On Monday, as the forces of the Kurdistan Region and Iraq began an operation to capture Mosul from IS, Erdogan referred to a late Ottoman oath that designated the city as part of Turkey.
Demirtas also slammed the Deputy Prime Minister Numan Kurtulmus for advocating self-governance for the Sunni-majority people of Mosul in Iraq and denying the same right to the Kurdish cities in Turkey.
PRAYERS FOR PESHMERGA
"As the borders are being redrawn, peoples will be resisting the IS barbarians, occupiers, and imperialists. May God be with [those who fight back], may God be with the Peshmerga forces," concluded Demirtas.
The HDP leader was referring to the Kurdistan Region's military that liberated 200 kilometer-square in the first day of the Mosul offensive.
Editing by Karzan Sulaivany
Category